Welcome to

Pediatric Dental Arts
At Pediatric Dental Arts, our pediatric dentists can help children maintain the level of oral health necessary to establish the foundation for a future of healthy teeth. In order to do that, the child needs to take care of their baby teeth as if they were their permanent teeth. We can oversee this with regular dental checkups to help take a proactive approach against the early signs of cavities or other issues.
When it comes to plaque and dental infections, patients of all ages are susceptible and at risk. While people are more likely to avoid seeking the dentist or skip a bi-annual checkup, visiting a pediatric dentist twice a year for routine check-ups is important for a child's developing teeth.
If you are interested in helping your child receive the proper dental care, invest in the future of their oral health and call us today.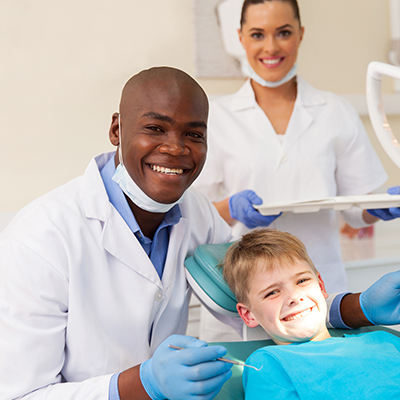 Our Team
From the moment patients walk in the door to follow-up appointments and checkups, our team strives to create a comforting and welcoming atmosphere for the child. We want the child to develop a positive relationship with visiting the dentist now, so they continue to have a positive perception of it as they grow. We can help to ease children into the idea and practice of proper dental care. Along with that, we will also instruct parents/guardians on effective methods to help them continue oral hygiene techniques at home. We will be patient with the child and explain what will happen during the appointment. The parent/guardian can also be present to help if the child needs.
About Us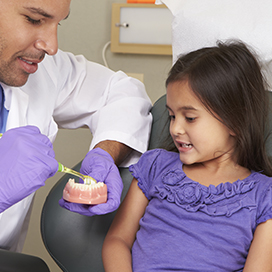 Our Services
We provide an array of pediatric dental services to help keep a patient's teeth healthy. Our services can help treat oral health issues in children, tweens and teens. The services for children are specialized to their needs and provide a more specific treatment than a general dentist. Our services include baby root canals, kids dental crowns, dental fillings for kids, kids mouthguards, dental bonding for kids, dental sealant for kids, and dental checkups for kids. With preventative dentistry, we can help stop any early signs of developing issues before they get worse. With regular checkups, we can help keep your child's teeth healthy.
View Our Services
Patient Information
To begin the treatment process, we will need to gather information on the patient's medical history, current condition, insurance, allergies and any other pertinent information we need to know. The parent/guardian will provide this information on a "New Patient Information Form" before the appointment. After we examine the child's teeth, we will check for signs of any oral health issues or developmental problems in the teeth. If we find anything, then we will recommend a specific treatment plan customized to the child's needs. If dental issues remain unchecked, they can impact a child's health, the development of their speech and chewing. Call us to invest in keeping your child's teeth healthy today.
Patient Information